Even without their number 10 and captain, Lionel Messi, Barcelona defeated Internazionale at the Camp Nou and now top Group B of the Champions League. Messi was not playing on the pitch. But he was present, as he watched the whole match from the stands of the magnificent Camp Nou. That could be a good chance for either Internazionale, as they could dare to dream with a point, or even with an unexpected win, and Rafinha, who was the chosen to be Messi's substitute. And he did well.
Of course, there were a lot of Barcelona supporters worried, as the Messi absence could turn out to be the same effect that the Cristiano Ronaldo departure had in Real Madrid. However, Barcelona corresponded on the pitch, and at the 32nd minute, opened the scoring. Rafinha took the ball, passed it to Luis Suarez and ran to box. The Uruguayan sent a perfect crossing back to Rafinha, who fired straight into the back of the net. 1-0 to the Catalans.
The first half ended up like that, with Barcelona having the vast majority of the ball possession, and 1-0 up on the scoring. They could have scored more though, if it was not Goalkeeper Handanovic, being the hero for the Italian side. Inter had a few chances through Icardi and Perisic, but they could not cause any harm to the home side.
As the second half began, both teams were creating good chances and making both keepers have to work a lot to protect their nets. Inter were trying, but Ter Stegen was not up to concede any goals.
Barcelona had some chances to kill the game, but it was just concrete at the 83rd minute when Rakitic sent the ball to Jordi Alba, and the Spanish entered the area, fired home past Handanovic, and sealed the deal for the Catalans.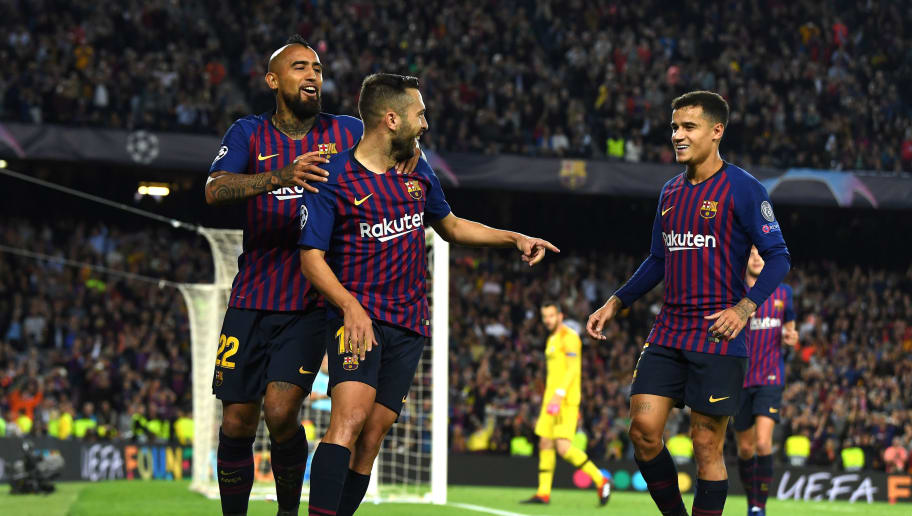 With the 2-0 win over Inter, the Catalan team showed that they didn't have any problems on playing without their main star, and they hold the first position of Group B with 9 points in 3 matches. Internazionale finish the round in second place, with 6 points, as Tottenham and PSV, the two other teams of the group, are both with 1 point after the 2-2 draw on their earlier match.