Today is a very sad day, not only for the city of Leicester, in England but for the whole World, especially the ones who live and love this beautiful sport, which conquered billions of hearts around the world.
Football has taught so many things to all of us. Through Football, you can go from the deepest sadness into a euphoric feeling on a blink of an eye. I still remember when back in 2016, Leicester were enchanting the whole World with an expressive Football form in the so-called 'Hardest League in the World' English Premier League.
That team, commanded by Italian Claudio Ranieri as the manager, and on the pitch, key players like Jamie Vardy, Riyad Mahrez, Wes Morgan, Kasper Schmeichel, Okazaki… And surprisingly, the small club beat step by step, game by game, giants such as the Blues from Stamford Bridge, the Red Devils, and even the ones who Never Walk Alone…
It was even crazier to think about it when you remember that back in 2013, this same side were facing Watford on the Championship final, and had a stoppage-time Penalty when the game was even. They missed the Penalty, and in the counter-attack, Watford scored the winner, in one of the most emotional matches in Football history.
Leicester won the Premier League in 5000/1 chances of it happening. There were some crazy people who bet £5 on Leicester winning the Premier League on the beginning of the season and got rich.
However, it wouldn't be possible if Mr. Vichai Srivaddhanaprabha hadn't purchased the club in 2010. The Thai businessman paid off a £100M of debts from the club, financially leveraged the club, and brought happiness back to Leicester City.
Vichai was loved by everyone in Leicester. He made everything possible. He made Leicester worldwide known. A common quote of some Leicester fans is the following: 'May 23rd never ends'… And it will certainly, be the most joyful day of Leicester's owner's life.
Unfortunately, every cycle needs to end… This last Saturday, after the 1-1 draw between Leicester and West Ham, at the King Power Stadium, Vichai's helicopter landed on the center of the field, as it has always done throughout the Vichai era at Leicester.
This time it was a little bit different though. As the helicopter took off with Mr. Vichai on board, it spiraled out of control and ended up crashing into a nearby car park, outside of the King Power.
After some apprehensive moments, Leicestershire police confirmed that Leicester's owner was in fact on board, and passed away…
Leicester released the following statement:
"It is with the deepest regret and a collective broken heart that we confirm our Chairman, Vichai Srivaddhanaprabha, was among those to have tragically lost their lives on Saturday evening when a helicopter carrying him and four other people crashed outside King Power Stadium,"
"A book of condolence, which will be shared with the Srivaddhanaprabha family, will be opened at King Power Stadium from 8 am on Tuesday 30 October for supporters wishing to pay their respects,"
"Supporters unable to visit King Power Stadium that wish to leave a message can do so through an online book of condolence, which will be made available via lcfc.com in due course."
Players and fans paid tributes to their leader, to the man who made their dream come true.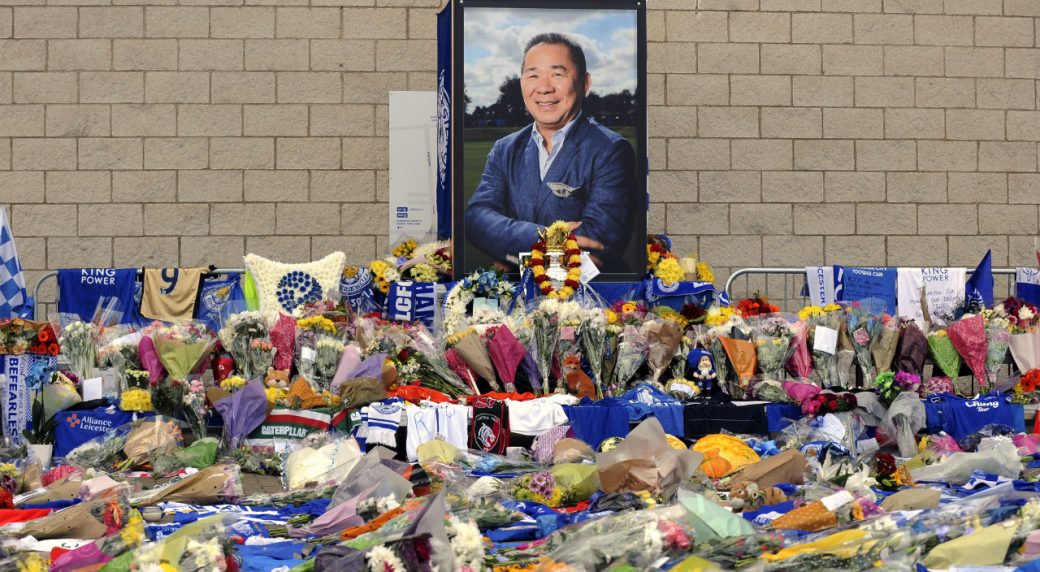 And it's more than fair, it's a must for me, to pay my condolences to this man. I'm not a Leicester fan. However, back in 2016, I supported Leicester with my whole heart. My heart goes out to the whole Leicester family, to the city of Leicester, to the staff, players, Leicester supporters, Vichai's family and close friends. You'll never be forgotten. You've taught that it's possible to dream. You've taught us that it's important to do so. Thank you very much, Mr. Vichai. We are all lamenting your death, but it's certainly a moment of joy in Heaven.
From the bottom of my heart… Rest in Peace.