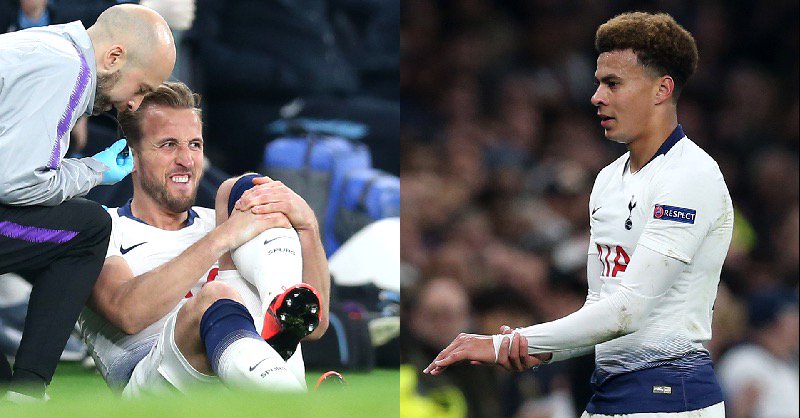 This Thursday Tottenham fans had the confirmation that they were hoping not to hear. One of their main players, and goalscorer, Harry Kane is injured. The forward left the match between Manchester City last Wednesday needing help. And now it is confirmed that he suffered a significative injury on the left ankle.
Kane had to use crutches to help him leave the stadium after the victory by 1-0 on the Champions League. The Spurs said that exams and analysis are still being made and that, next week, the medical team will once again make an evaluation on him. Until today, there is still no deadline for his comeback. According to Tottenham's coach, Mauricio Pochettino, it will be very difficult for Kane to play another match this season. It is understandable. He would have 5 weeks to treat a serious ligament injury, which is very difficult to be done.
Besides Kane, another important player of Tottenham suffered an injury and also on the same match. The midfielder Dele Alli suffered, according to the club, a fracture on the left hand. However, he will still be evaluated to see if he has or not condition to play against Huddersfield on Saturday, for the Premier League. In this case, Pochettino is more optimistic. He thinks that the midfielder won't be able to play this next match, but that we would be back to the second-leg match against City.
Both players are really important for the team during this decisive phase of the season. On the Champions League, Tottenham is one draw away from the semifinals, after beating Manchester City by 1-0 on the first-leg match. On the Premier League, the team is the 4th place with 64 points, 2 points behind Chelsea and just 1 point ahead from Arsenal. For the Spurs, this match against Huddersfield will be very important, once Chelsea will have a difficult match against Liverpool. A victory could mean the 3rd place for Tottenham and one step closer to next year's Champions League.