Since May 2017, not only Real Madrid fans but also, football fans in general have been questioning themselves: "Who is this Vinicius Junior?" which the Spanish giant paid €45M for?
Vinicius is an 18 years old boy, born in São Gonçalo, a reportedly violent city located in the suburbs of Rio de Janeiro. As many children in Rio, he descends from a poor family and due to the difficulties he experienced from day one, he had the dream of becoming a professional football player and helping his family to get out of poverty.
For those who doesn't know, in Brazil, there are 12 Football clubs which are considered the Heavyweights. 4 of them are located in Rio, as well as the most popular Football Club in the whole country – with more than 40 million supporters -, Clube de Regatas do Flamengo, or just Flamengo, which was and according to the player himself, still is the most important thing in his life, after his family.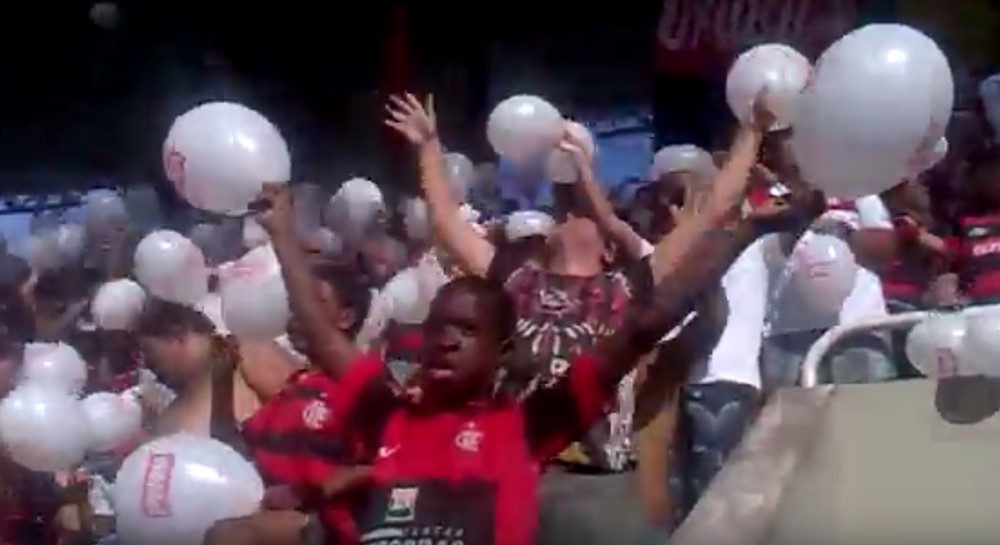 Aged 7, he began his journey in Football at one kind of Football school which is affiliated to Flamengo. One fact that many do not know is that Vinicius started playing as a Left back, and not as a Left-wing or Second striker.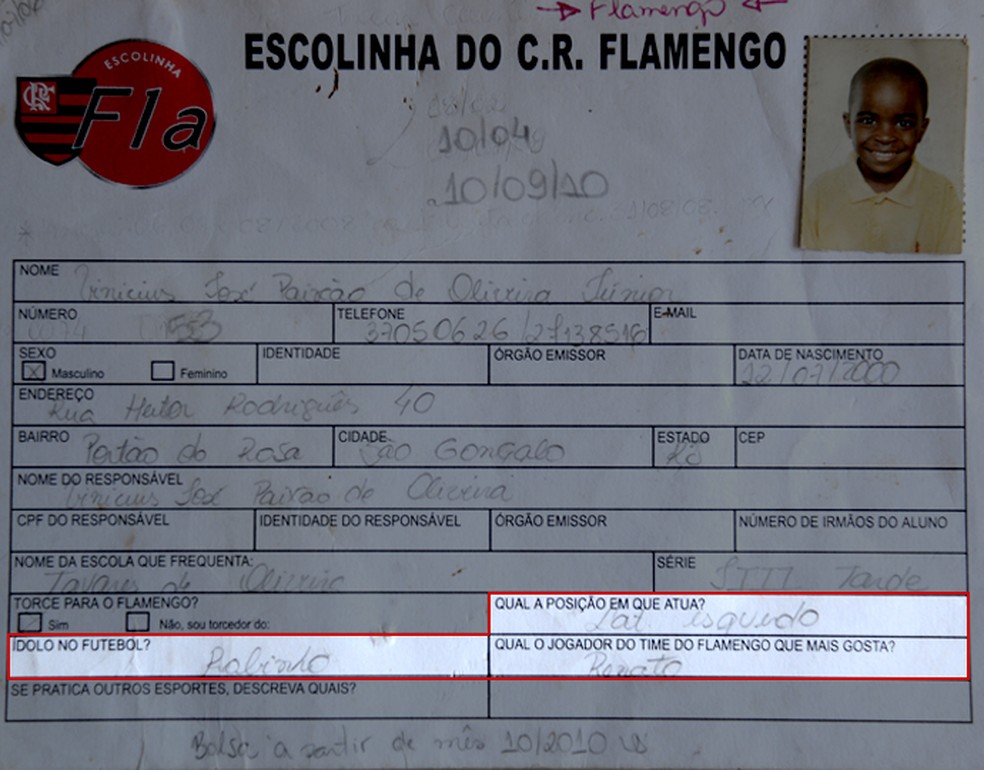 As soon as he got to the training field and had his first performances with the ball, his former head coach, Cacau, switched his position to second striker as he was better at attacking, and mainly dribbling. Definitely, holding back a so talented player like he was, would be a crime.
He used to train not only with children his age, but also with older ones, such was his potential, and due to physical similarities between him and his idol, soon some friends of Vinicius nicknamed him as Robinho.
He also managed to take Futsal classes in a neighbor-city called Niteroi. There he played from 2007 to 2010 and amazed his managers and teammates.
In 2010, he had to quit both Schools, for a bigger reason. He took a test in Flamengo and passed, and now, would have to travel from Sao Gonçalo to the Gavea neighborhood in Rio. He had to travel about 140 km every single day, just to play for the Flamengo U10.
From 2010 to 2017, the suburban boy collected lots of trophies, not only for his beloved club, but for the Brazilian Under National Team as well. His boom was such that he started being compared to Neymar, who nowadays, Vinicius is good friends with.
And of course, there was such a strong speculation around his name, as top clubs such as Barcelona and Real Madrid had already shown interest in Flamengo wonderkid.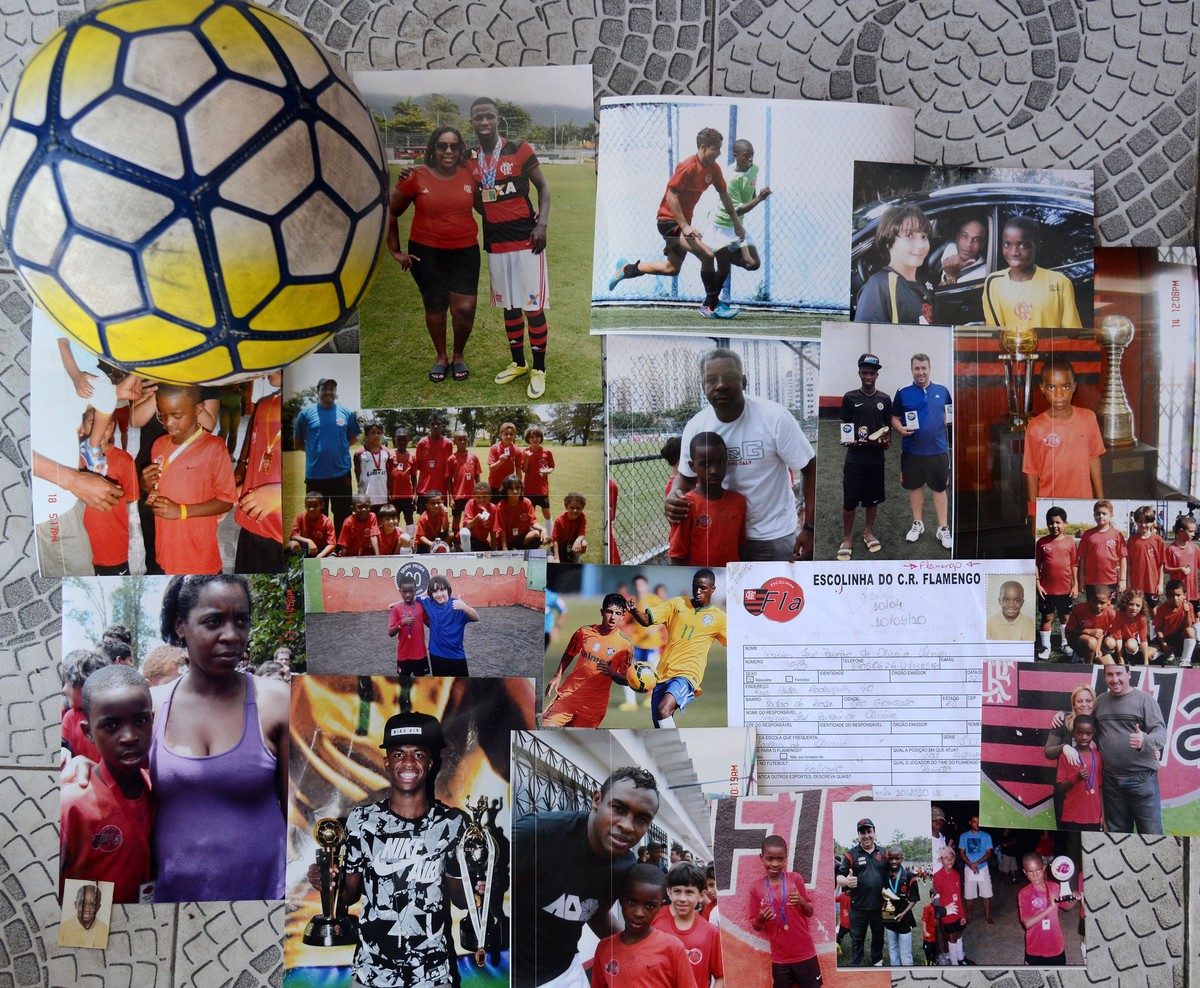 His debut for Flamengo happened on May 13th, for the opening match of the Campeonato Brasileiro, or the Brazilian League against Atletico Mineiro at the mythical Maracanã Stadium – which I had the privilege to witness. I remember as if it were yesterday, Flamengo had a busy week, had conquered the Campeonato Carioca, which is a local competition in Rio and was going to travel to Argentina to fight for a place on the last 16 in the Copa Libertadores da America, which is the South American Champions League equivalent. And this Flamengo – Atletico Mineiro game was all over the news as his possible debut. He saw from the bench 55 thousand people chanting his name every time. And at the 82nd minute the time has finally arrived for him.
He did not score that game, and the game ended up 1-1. But he lighted the game up and the whole crowd was happy despite the draw and also got to play against one of his idols, the former Brazilian International, Robinho. When I left the Stadium, I told my boyfriend that I will be able to tell my children I saw the debut of Vinicius Junior live in Maracanã.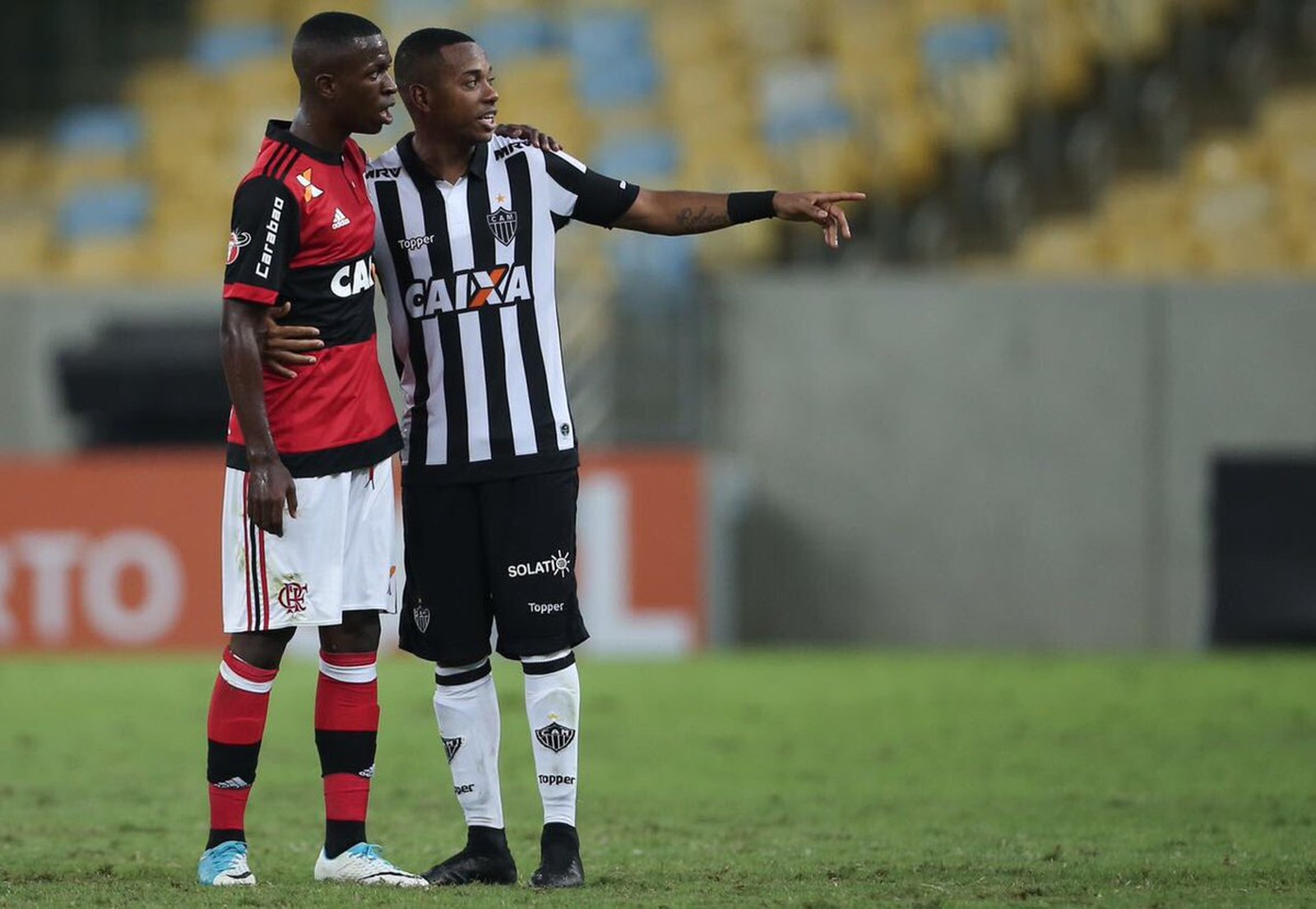 A while after, the inevitable happened. The official announcement of his transfer to Real Madrid. It was a shock for us, Flamengo fans, but everyone supported him from day one. About his contract with Real Madrid: Real Madrid bought him for €45M, but initially,  paying just €30M as the Brazilian law does not allow any Brazilian players to move to any foreign club until they have completed 18 years old, and back in 2017, when he signed for Real Madrid, both Real Madrid and Flamengo agreed that he would go to Madrid immediately after completing 18 years old, he would train with the main squad, and depending on the Spanish staff thoughts on him, both clubs would seal the deal and he would definitely be going to Madrid. However, Flamengo were hoping for in case the Spanish consider he was still ripe, they could re-sign Vinicius on loan until the middle of 2019, as he would complete 18 years old in July 2018.
However, 2017 was not quite the season Vinicius expected. With his club playing 2 out of 3 finals and due to his youth, Flamengo manager opted for eventually having him as an alternative for the second half.
Unfortunately, Flamengo lost both of the finals of the Brazilian Cup and Copa Sulamericana – the South American Europa League – and it may have hurt, but also helped Vinicius to get his space amongst the Flamengo Starting XI next year.
Undoubtedly, his best performance as a Flamengo player was for the Libertadores, playing away against Emelec. Flamengo dominated good part of the match but conceded a goal and was 1-0 down until Vinicius got into the match. My man simply destroyed Emelec's defense and scored two goals in 10 minutes in a remarkable comeback on the 2-1 win.

Note to this celebration. It went viral in Brazil and Flamengo even made souvenirs displaying Vinicius with these half-broken sunglasses, which were thrown by some Emelec supporter.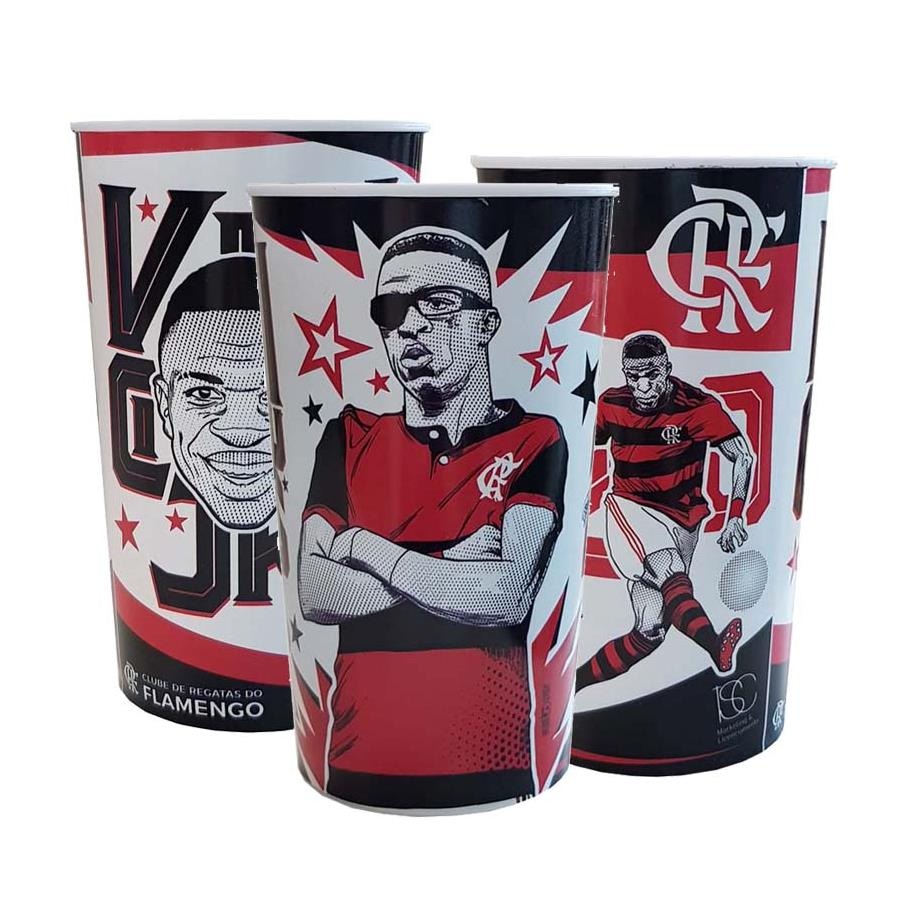 After this game, the whole South America got to know Vinicius Junior and even the local team fans wanted to take pictures with him after the game.
However, after very good games, having enchanted his beloved supporters and making his dream coming true, the farewell of his home, Maracanã, came against Paraná, for the Brazilian League. Flamengo won that game 2-0 and at the end of the match, Vinicius broke down in tears as the 60 thousand Flamenguistas – how Flamengo fans are known in Brazil – started to chanting for him to stay.
https://www.youtube.com/watch?v=voerVusi-OU
The journalist asks: "It's quite a goodbye atmosphere isn't it Vinicius? What's going on inside your mind right now?"
Vinicius: "Oh, it's a moment of… – Breaks down in tears – It's everything that always helped me, they took me away of São Gonçalo, they gave me a better life, they took care of me… I just want to thank everyone who helped me so far from day one I got into Flamengo… Especially Noval – his agent – he's telling me every other day for me to stay but it is not in my hands anymore… It's a hard moment, and I am where I have always dreamed and today I can have my farewell of the biggest crowd in the World, alongside my family and my friends as well… I just want to say thanks."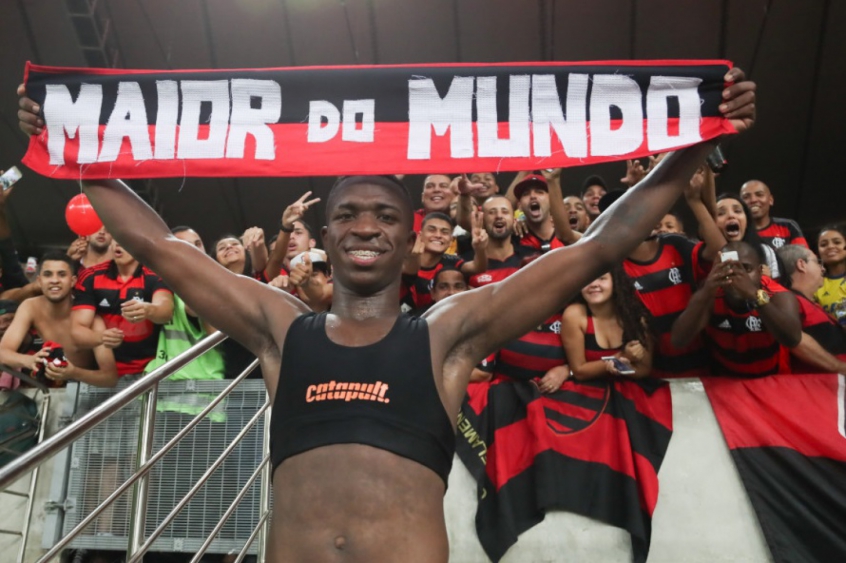 When he left the Brazilian giant, he was their top scorer and also the one who had the most assists and went to Madrid in definitive. He obviously, enchanted Julen Lopetegui and now is being appointed as the substitute of the legendary Cristiano Ronaldo in Madrid. Will he be the heir of the crown CR7 left in Madrid? Just the time will answer, but the boy's got an outstanding potential of being even better than his countryman, Neymar.