Bayern beat RB Leipzig to confirm the double in Germany
Bayern Munich have confirmed their supremacy in domestic territory and won the German Cup at the Olympic Stadium in Berlin. Lewandowski, like always, was the hero with two goals in a 3-0 win over the brave RB Leipzig in the German capital. Coman completed the scoring with a goal. It guaranteed the dream party for the farewell of Robben, Ribery, and Rafinha.
This title enhances Bayern's hegemony in the German Cup. Now, they have 19 against only six of the second placed, the Werder Bremen. They are also the kings of the Bundesliga (with 29 titles against 9 of Nuremberg). It was the 12th time in history that the Bavarians got both titles inside Germany. What a team!
Despite the frustration, RB Leipzig has much to celebrate in Berlin. With only a decade of history, the club remains trophyless in its gallery. But they go to the Champions League for the third time in only four years in the elite division. The team finished third in the Bundesliga, behind Bayern and Borussia Dortmund.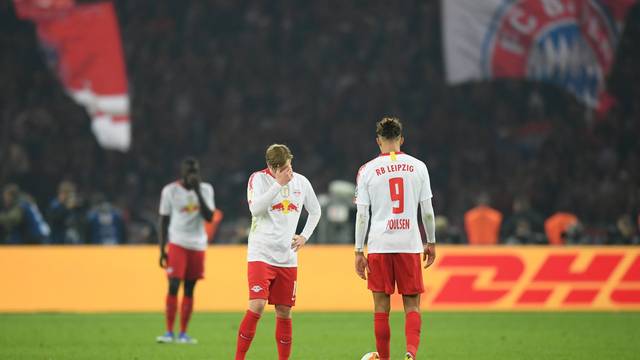 Bayern Munich undergo a natural reconstruction process. But it is hard to imagine the Bavarian success without Robert Lewandowski. For the fourth consecutive season, the Polish finished the season with 40 or more goals in the red shirt. In 2018/19, the striker came on the pitch 47 times and went to the net in 40 opportunities. In total there are 191 goals in Bavaria. A machine!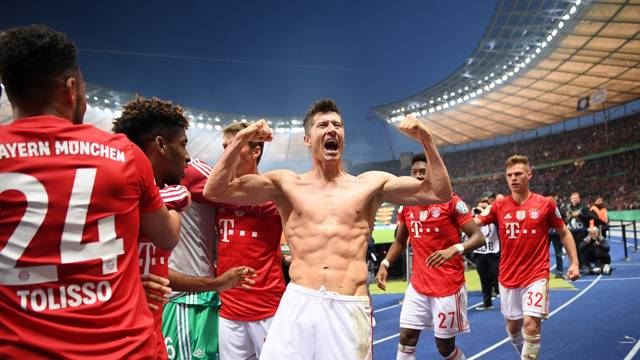 If Lewandowski was important for the goals, Neuer did not stay behind. The keeper performed some miracles. With the scoreboard still 0-0, he made spectacular defense at Poulsen's header in the small area and saw the ball explode in the crossbar. At the start of the second half, Forsberg had the chance of a free-kick and saw the goalkeeper swipe to make a beautiful save.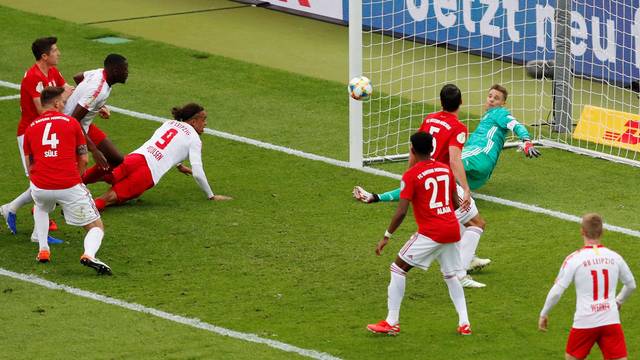 Robben, Ribery, and Rafinha made their last match with the Bavarians shirt. And the farewell party was as dreamed: with one more trophy. The gallery of the trio counts on all possible achievements: Bundesliga, Cup, Supercups, World Cup and Champions League. The Dutchman and French had the opportunity to play, and the right-back was on the bench. Three legends that leave on the best style possible.
With the new trophy on the gallery, Bayern finish the season in a good way. Next year, the Bavarians will keep trying a Champions League title again and another Bundesliga. Leipzig will probably grow stronger and try to get their first trophy on the first division.
Argentina a cuartos pero no es favorita
La Selección Argentina derrotó a Catar por 2 a 0, con goles de Lautaro Martínez (3′) y Sergio Aguero (81′) y de esa manera logró el pase a cuartos de final de la Copa América Brasil 2019, instancia en la que se medirá con Venezuela uno de los equipos mejor trabajados al contrario de Argentina que depende de las individualidades.
La Argentina regresa al Maracaná, estadio en el que disputó y perdio la final del Mundial 2014, y tendrá un muy duro compromiso por delante ante una Venezuela que viene de dos empates, Brasil y Perú, y una victoria, contra Bolivia. Además, le convirtieron un solo gol y llega con los ánimos altos luego de marcar por triplicado en su último encuentro.
Argentina apuesta a que aparezca Messi, aunque hasta ahora lo único que ha hecho es llorar. Leo Messi se quejó amargamente de la cancha, "Todas las canchas donde hemos jugado son muy malas. Bota mucho la pelota, necesitas un control más para pararla. Así es muy difícil jugar". Luego de fallarse un gol cantado en el área pequeña.
Le acompañó en esas críticas el técnico Lionel Scaloni en la rueda de Prensa oficial: "Recalco el tema de la cancha. No me quiero olvidar. Me criticaron por decirlo como excusa, pero no se puede jugar en esta cancha, no. Aún así lo intentamos y lo del segundo tiempo fue muy bueno".
En marzo de este año la Argentina disputó un amistoso en Madrid frente a los venezolanos. Aquella jornada, recordada porque fue la vuelta de Leo Messi tras seis meses, fue victoria del elenco de Rafael Dudamel por 3 a 1, en una caída que trajo muchas críticas al equipo.
Por primera vez en la historia del fútbol, Venezuela es favorita ante una Argentina que no se encuentra, pero sigue teniendo a uno de los mejores jugadores de la historia, que en un buen día el solo te puede resolver el partido.
Dybala merece oportunidades
Dybala jugó. Dybala mostró detalles interesantes. Dybala merece más oportunidades.
Paulo entró en el minuto 76' para sustituir a Lautaro Martínez en el partido ante Catar. Con su ingreso, Argentina modificó su esquema, pasando de tener dos puntas a un delantero y un volante ofensivo: Dybala. ¿Resultado? Minutos brillantes y una asistencia para liquidar el encuentro.
Hablamos de 15 minutos… Los últimos 15 minutos ante una Catar mermada.
Por ende, no hay argumentos suficientes para pedir una titularidad. Hoy no, pese a que sus minutos fueron sumamente atractivos. Lo que sí puede (y debe) llegar es una oportunidad.
¿Por quién juega Dybala?
Es prudente decir que una titularidad, ahora que Argentina está en instancias decisivas, es complicada. Por ende, las oportunidades como suplente llegarían primero. Eso tendría más lógica.
Pudiese ser el primer cambio ofensivo, por ejemplo. Siempre según dicte el partido, claro.
Ese es el primer y más lógico escenario… Hay otro, que quizá les guste más a los fanáticos de La Joya.
Si hay alguna posibilidad de que Dybala pueda ser titularidad, radica en la función de interior (dentro del rombo mostrado ante Catar) con mayor movilidad que en su juego habitual en la Juventus.
Eso quiere decir que hay posibilidades de ingresar por Lo Celso o por De Paul. Aunque visto los últimos rendimientos de ambos, el jugador del Betis pareciese ser más "sustituible".
Y sí, es una realidad. O al menos una alternativa interesante. Argentina puede ser mejor si contempla el talento de cierta joya.
¿Qué podría aportar Dybala?
Paulo es un conector. Puede hacer estrecho el espacio entre el mediocampo y el ataque. Sus participaciones tienen gran incidencia ofensiva. Y tal como ya mostró en la asistencia a Agüero, tiene relación con el gol.
Incluso Dybala puede ser considerado como delantero; segunda punta. Siempre con mucha ocupación de carriles interiores.
Es decir, el jugador de la Juventus puede conseguir dentro del actual esquema varias posiciones para ocupar, pero con las mismas funciones para cumplir. Allí todo dependerá de lo que busque Argentina.
Si buscan algo más equilibrado y menos riesgoso, Dybala no parece el hombre.
Pero si buscan el todo por el todo, arrollar desde lo ofensivo y generar más oportunidades que el rival, tenemos un nombre.
Scaloni y el primer acierto
Argentina se clasificó a los cuartos de final de la Copa América. Y Scaloni tiene méritos en ello.
Contrario a como piensa la mayoría, Lionel Scaloni sí ha tenido la capacidad de conducir a esta selección argentina. Que existan otras opciones "mejores" ya es otro tema. Pero el partido ante Catar demuestra varios detalles sobre el técnico:
Capacidad para solucionar problemas y repetir errores.
Estudio del rival para una mejor dirección de campo.
Conocimiento del plantel y de las relaciones directas en cada esquema.
De tal manera, aunque con un gran margen de mejora, Argentina mostró su mejor cara en el último partido de la fase de grupos. Construyendo sobre ella, buenas cosas pueden llegar.
El rombo funcionó
Argentina salió con un rombo en la mitad del campo: Paredes como pivote, Lo Celso y De Paul como interiores, Messi más adelantado.
El esquema táctico lo potenció todo. O tan solo solucionó aquello que había que arreglar. Leandro Paredes tuvo su mejor partido de la copa, siendo el único "5" y teniendo más opciones de pase vertical con el juego interior que representaba De Paul.
Y allí, queridos lectores (o haters argentinos), hay una lectura importante de Scaloni.
El parado también permitía surtir mejor a Messi, quien encontraba oportunidades para descargar y asociarse con facilidad. Jugando así, es cuestión de tiempo para que afloren sus mejores minutos.
Pero hay algo que va un poco más allá…
Argentina juega con dos delanteros
Sergio "Kun" Agüero y Lautaro Martínez. Si bien existía la sospecha de que ambos podrían verse muy bien como puntas de la selección, el partido que arrancaron ambos lo confirmó todo.
Agüero sale a jugar mientras que Lautaro fija centrales. La convivencia es tan útil como prolífica; jugadores se suman, ellos descargan… ¡Funciona!
Además, el partido acaba 0-2 con goles de ambos. Un "plus" de lo más valioso. Y una necesidad albiceleste: anotar.
Ante Venezuela, que será su rival en cuartos de final, el esquema debería prevalecer. El mismo XI incluso. Y si algo cambiará, estamos seguros de que no serán las dos puntas.
Argentina ha encontrado un sistema con el que puede competir más y mejor. También lo ha hecho Brasil.
… Esta copa América está llegando a un nivel digno de espectáculo.